Swaffham Prior Village Website
Swaffham Prior is a village of just over 300 houses in South East Cambridgeshire, about 5 miles west of Newmarket (Suffolk) and 10 miles North East of Cambridge. Burwell, Reach and Swaffham Bulbeck are it's immediately neighbouring villages. Swaffham Prior used to be known as Great Swaffham; Swaffham Prior and Swaffham Bulbeck together are often known as 'The Swaffhams' (not to be confused with the town of Swaffham in Norfolk).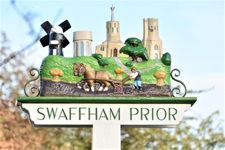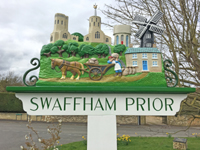 Village sign showing the two churches, the windmill, the water tower and other village landmarks.
Swaffham Prior is perhaps best known for its two churches (Saint Mary's and Saints Cyriac and Julitta's) in the same churchyard. On this site we have reproduced by kind permission of the author, a web version of Elizabeth Everitt's very interesting booklet on the history of the churches (see below). Copies of a shortened version covering just St Mary's are available to buy in St Mary's and similarly a more recent booklet on the history of St Cyriac's in St Cyriac's.
Just down the road to the East is the Devil's Dyke; an ancient earthwork. This provides good walking opportunities with views across the surrounding countryside and has some interesting plants growing on it. The National Trust's Wicken Fen Vision will extend the area of fen being restored to its natural state to include areas of fen within the parish. Cycle and walking routes being established in connection with this are readily accessible from the village.
Links to Information about the Village